at Yelverton Brook Eco Spa Retreat and Conservation Sanctuary
Western Australia's southwest is a green haven for tourists and escapees from the rush of city living.
Set on more than 40 hectares (100 acres) within the Margaret River wine region, award winning Yelverton Brook Eco Spa Retreat and Conservation Sanctuary is the ideal place to relax and re-connect with nature and is only 15 mins to Margaret River, Busselton and Dunsborough.
Conservation role
Ongoing self-funded conservation is part of the role of the family run Spa. So all guests who stay in chalets help support conservation of the critically endangered Woylie and Western Ringtailed Possum.
Be prepared to find local wildlife right on your doorstep. Upon arrival, you will be given special species-appropriate feed for your new fur or feathered friends.
Protected fauna
Within Yelverton Brook, onsite in the sanctuary, there are meandering walk-trails and picnic areas. By appointment, Southwest Eco Discoveries offer Nocturnal Tours, which enable visitors to view protected Australian fauna within the sanctuary.
'Visit wineries, breweries, awe-inspiring caves, white sandy beaches and towering Karri forests'
From Yelverton Brook, other delights of the southwest are within easy reach, including wineries and breweries, awe-inspiring caves, white sandy beaches and towering Karri forests.
After a day of touring, guests at Yelverton Brook can return to their one or two bedroom chalets, where they can slip into a big, luxurious, warm outdoor spa and take in the surrounding scenery under the stars. This is an utterly soothing experience, although you may be privy to some nocturnal 'entertainment' by local fauna.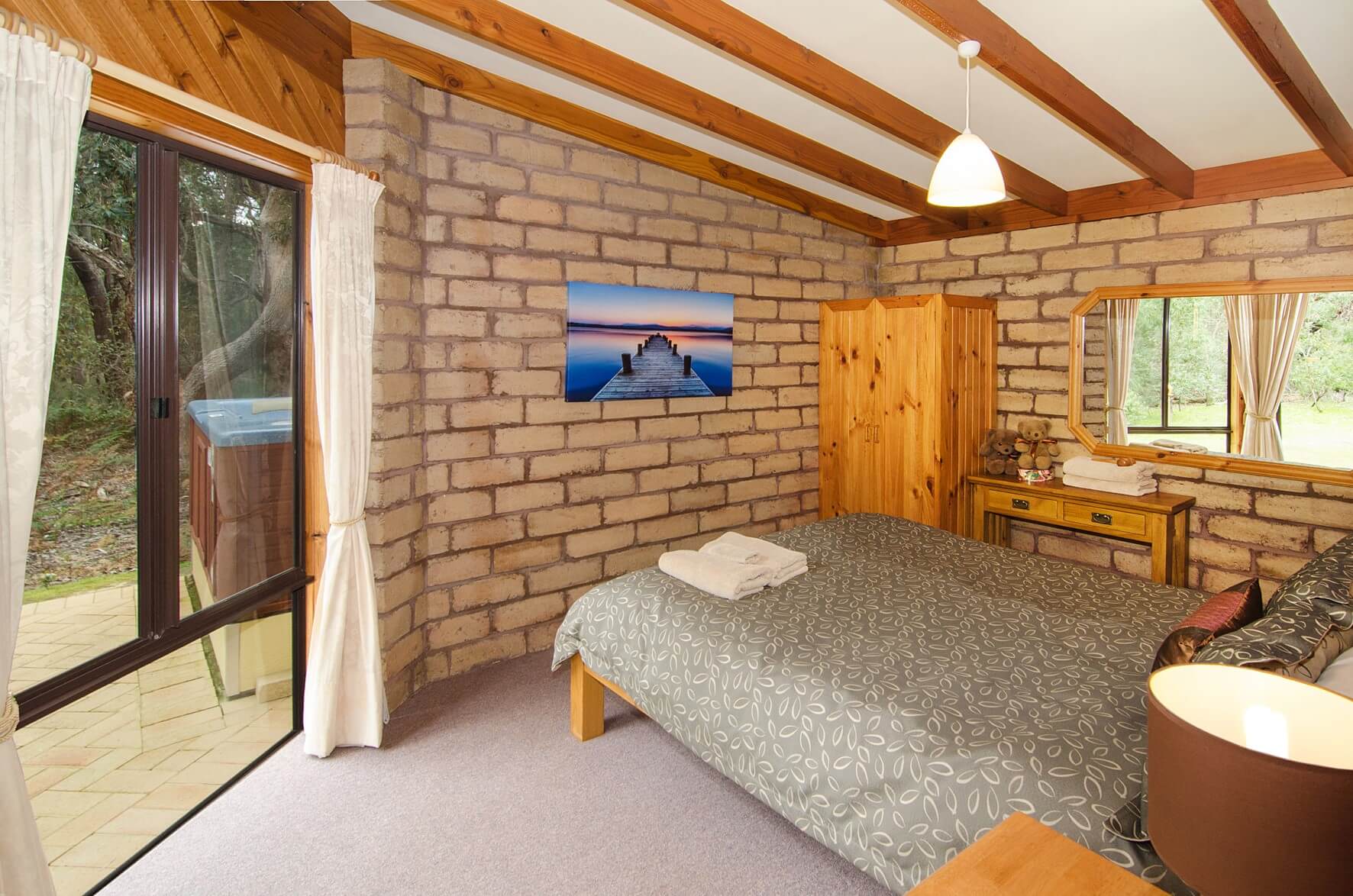 Glamping (glamour camping) is being considered for Yelverton Brook, which would offer the most ecofriendly option of treading lightly on the environment, but with all the comforts of home.
Learn to detoxify
Part of the Spa experience at Yelverton Brook is an option of learning how to de-toxify your life and optimise your level of wellness using Sisel International non-toxic products.
The personal care products include oral care for brushing and re-mineralising teeth, skincare that really works, mineral makeup with beautiful colours, plus a 30-minute Intrepid face lift.
Owners' life saved
Owners Joy and Simon Ensor have been running the Spa for more than 25 years. They bought the land in the 1980s and moved onto it in the 1990s, more than 25 years ago.
Only one year ago, Simon's Naturopath warned him he was dying from toxic overload. Years of working as a mechanic and boat builder were to blame. The battle to de-toxify Simon began with world-class Liquid Nutritionals and Sisel products. These products saved his life, helping him 'rebuild' at the cellular level.
Guests can book a free Sisel skin care demonstration and can ask to 'play' with the makeup.  According to Joy, Sisel offers a business opportunity and is now operating in more than 40 countries. Talk to her for more information, if interested.
---
For further information, Ph: 08 9755 7579; Location: 118 Roy Road, Metricup WA 6280  www.yelvertonbrook.com.au  www.joyensor.mysisel.com
E: [email protected] or (follow on Facebook; Instagram; Twitter)